There are many different types of contractors, and it can be challenging to figure out which one you need for your specific project.  This article will focus on the differences between residential and commercial electrical contractors.
Residential electrical contractors deal with wiring and power supply. In contrast, commercial electrical contractors need to understand the various types of equipment within a building, such as ventilation and power systems.
The two jobs are entirely different, so you must know the difference!
Keep reading to get an in-depth look at the differences between commercial and residential electrical contractors.
Types of Electricians
There are more than 20 types of electricians, each with its own set of qualifications, skills, and experience. Here are five examples of the most common ones.
Residential electrician/contractor
Commercial electrician/contractor
Industrial electrician/contractor
Low voltage/electrical communication specialists
Automotive electricians
Although not every electrician becomes a contractor, most residential and commercial ones do and can work on tasks separately or as part of a contractor company.
Residential electrician/contractor
Residential electricians deal with installing and maintaining home wiring.
They must be licensed to do electrical work, but they aren't required to have a college degree or any sort of specialized certification.
The licensing requirements vary depending on state law but generally include receiving an apprenticeship or completing the necessary education hours.
Residential contractors should also have a thorough knowledge of the National Electrical Code.
Commercial electrician/contractor
These contractors have a lot more responsibilities than residential electricians do.
As stated, commercial electrical work involves ventilation and power systems. In addition to installing outlets and lighting fixtures, they might need to understand fire alarms, telecommunications systems, and security systems.
Commercial contractors must work with mechanical engineers, architects, and general contractors. Many also carry insurance to protect themselves in case of an accident at the job site.
Commercial electricians typically need a four-year degree or some sort of certification through an organization like The National Center for Construction Education and Research (NCCER).
Industrial electrician/contractor
Industrial electricians are responsible for installing and maintaining all electrical equipment within an industrial facility.
They may be required to work alongside large machines, so this electrical work requires a lot of skill. Factory workers might also need to perform maintenance on equipment while it's still running. Industrial contractors must follow OSHA guidelines and meet the requirements of the National Electric Code.
Low voltage/electrical communication specialist
A low-voltage electrician is more specialized than a general contractor. They work on electronics, security systems, power supply, telephone lines, and more.
This type of electrician needs a thorough knowledge of installing and testing this equipment. Depending on the task, they may need to know how to read blueprints, work with fiber optics, and wire audio/video systems.
Automotive electrician
Automotive electricians fix and install electrical parts in cars and small machines like lawnmowers.
They need excellent knowledge of automotive electrical systems. If somebody needs to repair or replace a part, they must know how to do so accurately and safely.
An automobile electrician also needs the ability to test electrical components under real-world conditions.
Differences in education
The educational requirements for residential and commercial contractors are very different. Residential electricians usually receive the necessary on-the-job training.
Commercial electricians have more options.
While some receive on-the-job training, others complete a two-, three-, or four-year college program in electrical engineering technology. Some do both.
Some commercial electricians earn their license by attending an accredited apprenticeship program that requires 144 hours of coursework and 2,000 hours of paid training.
For industrial electricians and low-voltage electricians, a college degree is common.
For automakers and small engine technicians, an apprenticeship program is necessary.
Differences in employment
Many contractors prefer to work for themselves rather than be employed by somebody else. A commercial contractor isn't tied to one company like an industrial electrical contractor.
A residential electrician can work for a utility company or large corporation, but they don't need to.
Commercial contractors are more likely to have multiple jobs at once.
Industrial and low-voltage electricians usually work full time for one employer. Some have a second job in the evenings or on weekends.
Automotive electricians often work with an automotive technician who specializes in brakes, exhaust systems, and other types of repair.
Differences in salary
By most estimates, residential contractors average about $21.45 per hour, while commercial electricians earn about $27.37 per hour.
Those figures don't take into account experience or regional differences like income taxes, cost of living, or housing costs.
Here are the average rates of pay (yearly) for the various types of electrical contractors here In Louisiana.
As you can see, there is a significant difference in the rates of pay between residential and commercial electricians.
The average rate for a commercial electrician is $42,605, while the average rate for a residential electrician is only $39,850.
This could be due to the fact that commercial electrical work is more complex and requires more skill.
If you are an experienced electrician and are looking to make more money, it may be worth your time to become certified as a commercial electrician.
Differences in types of job environments
A commercial contractor might do most of their work at one site while a residential electrician moves from job to job. Some people love that aspect while others don't.
Commercial electricians spend more time at their jobs than any other type of electrician. They often have access to on-site trade journals, safety equipment, and other perks that aren't available to the other types of electricians.
In some cases, a commercial contractor is on-call 24/7 for emergencies at a given business or company. Some have their own shops while others spend most of their time outdoors under less than ideal conditions.
Residential contractors usually handle jobs around a single neighborhood or subdivision. They spend less time traveling from one job to another and have more chances to learn new skills.
Industrial electricians work in many types of facilities, including factories, warehouses, mines, or construction sites.
Sometimes they are tasked with maintaining the facility's electrical systems, while at other times, they are responsible solely for installing new systems.
Low-voltage electricians work with wiring systems for residential intercoms, sound equipment, security alarms, and other types of low-voltage wiring. They'll usually work indoors where it's quiet and not as hot as some other types of jobs.
Automotive electricians tend to work inside a shop or garage, although they may visit a customer's location to troubleshoot an electrical problem on a car.
They work with 12-volt systems and not the more complex 120-volt systems that industrial and commercial electricians must deal with regularly.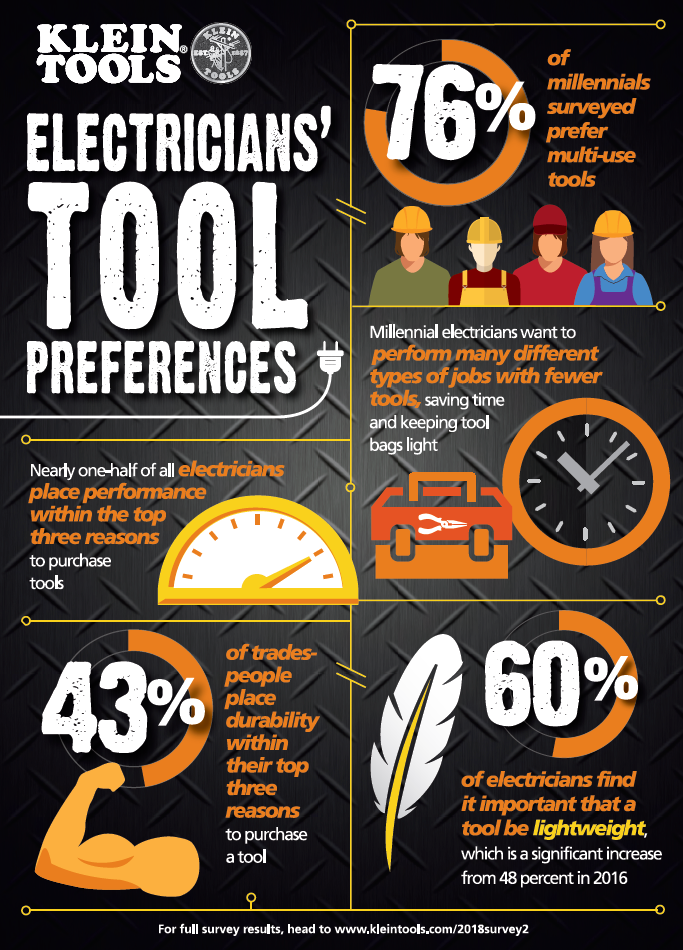 Differences in tools and equipment
Although their work is similar in many ways, electricians use different tools and equipment depending on their employer and the types of jobs they do.
Most residential contractors own essential electrical hand tools, including wire strippers, snips, screwdrivers, staple guns, and drills.
Smaller businesses or low-voltage companies might require their employees to supply their own tools.
Commercial electricians usually use more sophisticated tools and electronic test equipment.
For example, they often work with high-voltage systems that require special equipment they wouldn't need if they worked as a residential or industrial electrician.
Industrial electricians must be familiar with a wide range of electrical testing equipment, including ammeters and voltmeters, and may even work with some very high-tech equipment.
They're also responsible for keeping the facility's electrical safety standards in place and must follow the rules set out by OSHA (Occupational Safety and Health Administration).
Low-voltage electricians use many of the same tools as residential electricians but can install, troubleshoot, and repair telephone systems, sound reinforcement equipment, security alarms, fiber optics, or video systems.
Auto electricians repair and maintain lighting, alternators, starters, switches, fuel pumps, electric motors, and other vehicles' electrical components.
Tools used for this type of work include screwdrivers, wire cutters, and strippers, a voltmeter or multimeter to check voltage or resistance in a wire circuit, specialized tools such as die grinders, and soldering equipment.
Differences in hazards
Injuries are a possible hazard for every type of electrician – from minor burns to loss of hearing from working with high-voltage equipment. Other risks include falling from heights, being crushed by heavy machinery or falling objects, and being struck by power lines or electrical currents.
Industrial electricians have the highest likelihood of being injured on the job.
Commercial electricians have a slightly lower risk, and residential electricians have the lowest chance of being injured on the job.
Most low-voltage and auto electricians generally work in safer environments than industrial or commercial electricians.
However, industrial, commercial, and residential electrical contractors all face the risk of danger from electrocution.
Electricity can kill very quickly if you're not careful.
That's why all electricians wear protective equipment, including rubber-soled shoes, insulating gloves, and rubber mats or flooring to stand on while they work. They don't touch electrical equipment with metal objects such as screwdrivers and pliers.
They also take precautions against working in wet or high-humidity conditions.
The Occupational Safety and Health Administration (OSHA) issues guidelines for safe practices in the workplace, including tips on working safely around electricity.
Differences in training required.
Training requirements vary depending on where you live because some states have more stringent certification procedures than others.
As a result, licensing requirements may vary from state to state.
You also must be licensed in the state (and area) where you'll work and pass an exam given by that state's certification program.
To become certified as a residential or industrial electrician in most states:
You need to complete an apprenticeship program of at least four years or 4,000 hours of supervised on-the-job training at the rate of 144 hours per year.
You must be 18 years old to begin an apprenticeship program in most states, though some allow 16-year-olds to enter after completing high school or home school.
You'll need a GED if you don't have a high school diploma.
You must have a valid driver's license, clear criminal background, and be physically capable of working on ladders and in tight spaces.
Once you've completed your apprenticeship program, you'll need to take an exam to become licensed as a master electrician.
Most states also require that you pass a drug test, have no felony convictions, and take a test on electric code regulations before you can become licensed.
Differences in Standards, Compliance, & Regulations
While residential and commercial electricians both work in the same industry, their work is different enough to follow different standards, compliance, & regulations.
Residential electricians typically do not need to be licensed by a local or state government agency because most homes do not require this level of expertise. However, the company they work for may be required to hold a license in the state where they live.
Commercial electricians must follow OSHA regulations and national industry standards set by an organization such as the National Fire Protection Association (NFPA).
The NFPA sets rules for wiring and installation of electrical equipment and systems in commercial buildings to reduce the risk of fire, electrical hazards, electrocution, and injury.
The National Electrical Code (NEC) is a collection of these rules for wiring and installation of equipment within a building. It includes requirements for overcurrent protection devices such as circuit breakers, grounding and bonding systems, minimum wire size, voltage and ampacity, and wiring enclosure.
Because standards, codes, and regulations differ from state to state, you need to check the requirements in the state where you want to work.
Are you thinking about becoming an electrician?
We're hiring! Visit our careers page to learn more.
Are you in need of an electrician for your home or business?
Owens Electrical Contractors is a full-service electrical contractor that has been serving the Baton Rouge, LA area since 2018. We provide quality electrical services at a fair price.
Locally owned and operated, we take pride in providing our customers with quality residential and commercial electrical services at a price you can afford.
Our team is committed to providing you prompt and professional service. You can trust Owens Electrical Contractors for all of your residential and commercial electrical needs in both Baton Rouge, LA, and beyond. From repairs in your home or for your complete electrical installations for your small business, we've got you covered!
If you're looking for an electrician, contact us today! Call us at 225-953-4764 or complete the form below for your free quote!